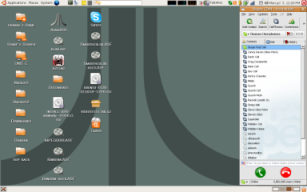 Ubuntu comes with high quality, industrial-strength applications on the installation CD. These include a full office suite, a graphics package that has around 80% of the functionality of Adobe Photoshop, a full personal information manager that functions similarly to Outlook, instant messaging, and Skype-like Internet phoning.
Using Ubuntu's built-in installation utility, one can select applications which the program will then find on the Internet, download, install, and configure at the click of a button. Ubuntu also supports fast user switching as well as nested user switching, allowing you to start another login inside of a nested window like starting another program. ACPI power management is also supported.
Further, if you want to save or copy your bookmarks, background, and other options from your Windows installation and use them in Ubuntu, you can. With Ubuntu 7.04, the installer preserves those options and implements them in the new installation. They are ready for use as soon as you login the first time.
One of the great frustrations endured for some time by Linux users and Windows users alike was incompatability issues between the software and the operating system. Ubuntu solves this by checking the dependencies of a program before it is installed. If a required package is not installed and needs to be, Ubuntu will offer to find it and install it first, and then continue installing the previously selected program.